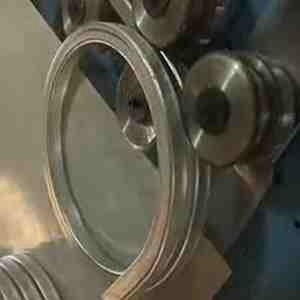 CNC multi-axis roll bending machine spiral coil machine
Thursday, 27 February 2020

0

10419

0
CNC multi-axis roll bending machine spiral coil machine
The NC multi-axis roll bending machine adopts full hydraulic roll bending, 3-roller driving, and the double-roller independently adjustable design. This structural design allows Comay comac CNC multi-axis roll bending machine to bend only large-sized profiles, and smaller-sized profiles, with the smallest bending radius. Comac comac CNC multi-axis roll bending machine is very suitable for medium or heavy steel structure engineering applications.
The mechanism of comac CNC multi-axis roll bending machine has included side straightening roller, mechanical drive of side straightening roller, with double instructions. Each side straightening roller can correct the workpiece at a position orthogonal to the traveling direction of the workpiece during the bending process of the workpiece (this feature is also particularly suitable for trimming the extension of the corner iron when bending the corner iron).
The standard machine includes a set of three multi-functional rollers with sufficient effective shaft diameter to allow the machine to bend various profiles.
The structural principle of comac CNC multi-axis roll bending machine: independent support. This tool allows the shaft to function in a strict manner, so there is no bump in the traditional sense of the bending machine, and the bending pressure is transferred to the fuselage by the action of the slider. The bending capacity of the machine has been fundamentally improved, and it can process a variety of profiles from general to large sizes. The machines are always in top condition, and they are more than competent when loading or feeding materials between rollers.
Application area:
Heavy metal frame engineering
Highway and rail transit construction projects
Shipbuilding
City furniture
Small and medium steel production
auto industry
Agricultural and Livestock Facilities
Air-conditioning and refrigeration industry
Renewable energy industry
Construction machinery industry

Your cart is currently empty.