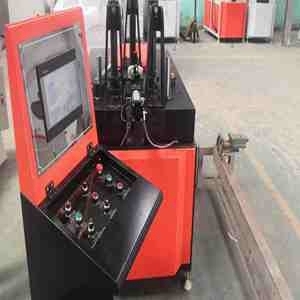 Performance and ideas of bending machine
Thursday, 27 February 2020

0

10401

0
Performance and ideas of bending machine
Spend less money solving more processing problems
For many years, we have been leading the world in the development of rolling technology. At present, in terms of rolling various profiles, tubes and channel steels, Comay can effectively solve problems that cannot be solved by other equipment such as wrinkles, flanging, collapse, high straightness, high flatness, etc., and can roll various end faces. Structural profiles and various specifications of pipes, half pipes, three-dimensional multi-curvature radii, various specifications of square steel, channel steel, T-shaped steel and other special processing requirements. Each spindle of the equipment can be individually controlled, which can effectively solve one side processing, Warpage on one side causes a large area of ​​the plant.
Compared with press forming or stretch-bending forming, the roll bending process has more flexibility, high efficiency, small footprint, low mold cost, no need for mold repair, and a wider range of processing, etc., and the price of the equipment is press Or 1/2 or 1/3 of the bending machine, the roll bending process is used by more and more users, and it costs less money to solve more processing problems.
At present, profiles, tubes and channel steel bending machines are widely used in rail transportation, automobile manufacturing, shipbuilding, engineering machinery, furniture, construction, boilers, elevators and other industries.
From the establishment of its predecessor 60 years ago to the establishment of a joint-stock group company 25 years ago, nearly 100,000 devices have been used around the world, and most of the devices are now in normal use. For example: Mitsubishi Elevator Equipment bought in the 90's! Still in use today

Your cart is currently empty.