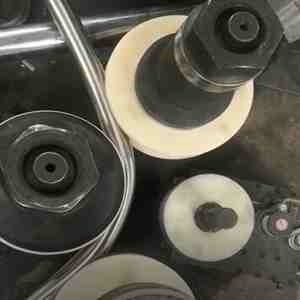 Swing-roller four-roller bending principle (four-roller arc bending machine)
Thursday, 27 February 2020

0

10446

0
Swing-roller four-roller bending principle (four-roller arc bending machine)
The invention belongs to the technical field of cold-formed steel rolling mills. It discloses the roll position arrangement and roll forming principle of a swing-roller four-roller profile roll bending machine, and uses this principle to design and manufacture an arch-type bracket roll bending machine. Its main technical characteristics are reflected in the swing-roller shaft device and box shape. Swing your arms. The swing roller swings on the positioning mechanism. The advantage of the invention is that the arch-shaped bracket arched arc beam can be cut according to its unfolding length, automatically and continuously fed, and the roll position can be adjusted without stopping, and the continuous continuous roll forming is performed. With a height of 1.5H, this rolling position arrangement and rolling principle can be applied to various profiles and rolling machines.
A swing-roller type four-roller rolling principle and roll position arrangement are composed of a central roller with a fixed axial position, a swing roller and left and right rollers. The center roller and swing roller are active rollers, and the left and right rollers are idle rollers. The roller is characterized in that the swing roller shaft and the center roller shaft are hinged with a swing arm, the swing roller swings around the center roller shaft, and the two shafts are driven by a pair of gears with constant center distance. The swing of the swing roller is Driven and controlled by the swing mechanism, in a rolling cycle, the swing rollers are set to the right, reset, and left to swing to the right according to the pre-adjusted positions, forming the right roller asymmetric, symmetrical and left asymmetric three-roller roller arrangement. The essence of its roll forming principle is a combination of three roll bending machines, namely right asymmetric three-roller, symmetrical three-roller and left asymmetric three-roller.

Your cart is currently empty.